BACHMAN-CUMMINGS Thunderbird Trax (1987)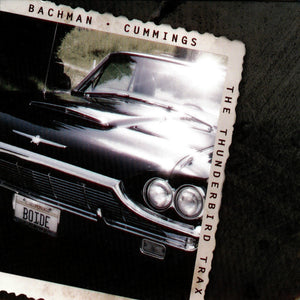 Product image 1
Product image 2
The Thunderbird Trax is a collection of unreleased songs from 1987. It was released independently as a limited run of 1000 units and exclusively sold during the brief Bachman-Cummings 2008 First Time Around tour. Randy recently found a box of CDs in his garage and once these are gone there will be no more available.
AND AS THE STORY GOES ...
In June 1987, the two got together in New York City where they received an award for more than a million airplays of These Eyes and started talking about collaborating on an album. As the story goes...Burton would drive up Randy's place in BC from Los Angeles in his 1966 Ford Thunderbird (which appears on the CD cover) and they started working on some songs at Randy's Tool Shed recording studio. With the MTV music culture not interested in classic rock the master tape got put aside. In 2004, Randy bought the old Thunderbird from Burton and took it to the Thunderbird Car Club of Vancouver to be restored. As Randy explains in the liner notes: "While getting the car cleaned up and restored, I was given a bag of junk stuff that was in the car: pencils, manuals, tire gauge, old registration and a tape. To my amazement the tape had every song we had recorded in the Tool Shed." Among the eight tracks, six are Bachman/Cummings co-writes and they each have a self-penned cut with both Bachman and Cummings playing all the instruments.
TRACK LISTING:
American Dream / In Your Eyes / Yo Te Amo / Just About Sane / Martyr / Something About That Woman / Saturday's Gloom / Another One
FEATURED ITEMS ! ADD A SECOND ITEM TO YOUR CART TO SAVE ON SHIPPING AND GET AN AUTOMATIC 5% OFF !