Badlands - Badlands (1989)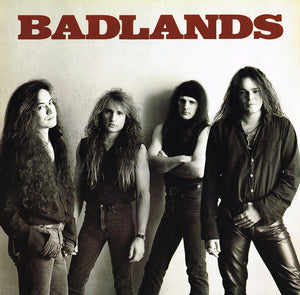 Formed upon leaving a stint with Ozzy Osbourne, guitarist Jake E Lee joined with singer Ray Gillen and drummer Eric Singer, who both had recently departed Black Sabbath., and adding Greg Chaisson on bass. While it's easy to lump Badlands in with the hard rock crowd, their self-titled debut has a bluesy hard rock feel with emphasis on guitar crunch rather than flash. Strong songwriting elevated by quality musicianship had let this album age well 30 years on.

TRACK LISTING :
High Wire / Dreams In The Dark / Jade's Song / Winter's Call / Dancing On The Edge / Streets Cry Freedom / Hard Driver / Rumblin' Train / Devil's Stomp / Seasons
FEATURED ITEMS ! ADD A SECOND ITEM TO YOUR CART TO SAVE ON SHIPPING AND GET AN AUTOMATIC 5% OFF !