Badlands - Voodoo Highway (1991)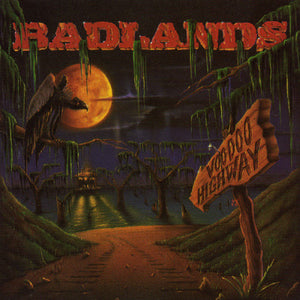 Badlands continues on the same bluesy hard rock path with their second release. Jeff Martin from Racer X fills on drums as Eric Singer had left to join Kiss.  Pressures from the record company to have a hit caused tension between songwriters Lee and vocalist Gillen but the results are undeniable. The result is a more straightforward effort that harkens back to the sounds of Bad Company, Aerosmith and early Whitesnake with Lee's riffs stilll in the forefront.
TRACK LISTING :
The Last Time / Show Me The Way / Shine On / Whiskey Dust / Joe's Blues / Soul Stealer / 3 Day Funk / Silver Horses / Love Don't Mean A Thing / Voodoo Highway / Fire And Rain / Heaven's Train / In A Dream
FEATURED ITEMS ! ADD A SECOND ITEM TO YOUR CART TO SAVE ON SHIPPING AND GET AN AUTOMATIC 5% OFF !