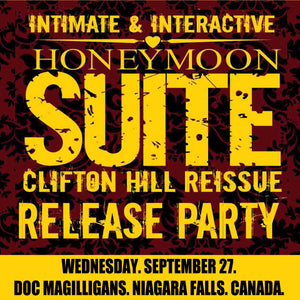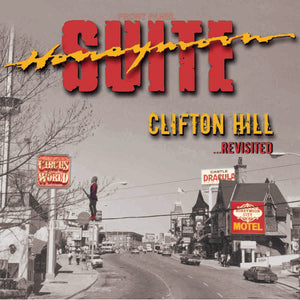 Product image 1

Product image 2
Product image 3

Product image 4

Product image 5

** HMS RELEASE PARTY FOR CLIFTON HILL ... REVISITED **
Johnnie and Derry return to their roots for a hometown acoustic performance on Wednesday, September 27th at Doc Magilligans Live Room in Niagara Falls ON to celebrate the international release of Clifton Hill ... Revisited. This is a special intimate performance in the atmosphere of a classic Irish Pub with HMS keyboardist Peter Nunn also on stage. Limited to 100 tickets, fans will hear the new rock mix of the album and see Johnnie & Derry play never before heard stripped down versions of Honeymoon Suite classics including brand new acoustic versions for "Ordinary" and "Sittin' In The Garden" from the Clifton Hill...Revisited release ! 
General admission tickets are $35 ADVANCE (plus tax)/$40 AT DOOR (including tax). A limited number of VIP packages are available and include a reserved seat in front of the stage. This is a 19+ event.
The CLIFTON HILL ... REVISTED VIP PACKAGE comes with signed CD and LP and includes:
- Ticket for the show with RESERVED SEAT in front of the stage.
- Attend the soundcheck, meet Johnnie & Derry, get a photo and have 1 item signed.
- Receive your limited edition pre-signed Clifton Hill...Revisited CDLP packaged in a full color deluxe LP gatefold format. The CDLP version is a limited edition of 150 units on orange/yellow swirl vinyl and comes with the full CD which includes two newly recorded acoustic bonus tracks. 
- Receive a special Commemorative Ticket.

YOUR PURCHASE IS YOUR TICKET. WE WILL HAVE YOUR NAME AT THE DOOR, JUST SHOW THE EMAIL CONFIRMATION OF YOUR ORDER. VIP PLEASE ARRIVE AT THE VENUE ENTRANCE BY 4:30 FOR THE 4:45 SOUNDCHECK PARTY.
SPECIAL GUESTS INCLUDE ORIGINAL SETS BY CHRIS VANDER and EVAN ROTELLA. DOORS AT 6:00. Evan is on stage at 7:30. Chris Vander at 8:15. Johnnie & Derry at 9:15.
IF YOU MISS THE SHOW WE WILL MAIL OUT YOUR VIP  CDLP. IF YOU PURCHASED A TI KET ONLY WE WILL SEND A HMS SHIRT.
FEATURED ITEMS ! ADD THREE OR MORE ITEMS TO YOUR CART TO SAVE ON SHIPPING AND GET AN AUTOMATIC 5% OFF !