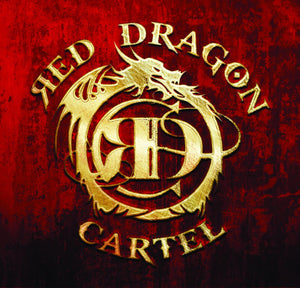 After a self-imposed exile from the music industry and the public eye, noted guitarist Jake E. Lee (Ozzy Osbourne, Badlands) returns to the fold with a new band, RED DRAGON CARTEL. The band came about when old friend Ronnie Mancuso helped to coax Jake out of retirement. Ronnie, noted session guitarist/bassist, composer and producer for Beggars & Thieves, was sharing a studio space, The Hideout in Las Vegas with super hot producer, engineer and mixer Kevin Churko (Ozzy Osbourne, Five Finger Death Punch, Rob Zombie, Hinder, In This Moment). Ronnie and Kevin started talking with Jake, then slowly, Ronnie and Jake along with Kevin's son Kane (co-writer of Five Finger Death Punch's "Remember Everything", In This Moments "Blood" and many others) started writing songs under Kevin's supervision based on literally hundreds of great riffs Jake had stored up from his years in seclusion. The new self-titled Red Dragon Cartel debut album was cut at The Hideout and produced by R. Bernard Mann (AKA Ronnie Mancuso and Jake E. Lee) and executive produced, mixed and mastered by Kevin Churko.
The band was rounded out by a lucky few culled from over a thousand submissions to a "Jake E. Lee needs a lead singer and drummer Facebook page." The lucky few are UK born vocalist D.J Smith, and Vancouver based drummer/vocalist, Jonas Fairley. The album also features stellar guest appearances from legendary vocalist Robin Zander of Cheap Trick, original Iron Maiden vocalist Paul Di'Anno, Canadian rock Sass Jordan, former Pantera and Down bassist Rex Brown, Slash's Conspirator's, Todd Kearns and Brent Fitz, Scott Reeder of Kyuss and The Obsessed and new metal icons like vocalist Maria Brink from In This Moment and Five Finger Death Punch's Jeremy Spencer.
TRACK LISTING:
Deceived /  Shout It Out / Feeder (featuring Robin Zander) / Fall From The Sky (Seagull) / Wasted (featuring Paul Di'Anno) / Slave / Big Mouth (featuring Maria Brink) / War Machine / Redeem Me (featuring Sass Jordan) / Exquisite Tenderness
FEATURED ITEMS ! ADD THREE OR MORE ITEMS TO YOUR CART TO SAVE ON SHIPPING AND GET AN AUTOMATIC 5% OFF !