The Pathfinder: Buried Treasures (2010)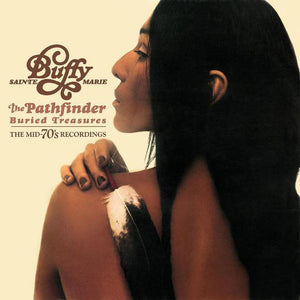 This collection is a digitally re-mastered set of the three albums Buffy (1974), Changing Woman (1975) and Sweet America (1976) on the Gypsy Boy Music label. This two disc package captures the period when Sainte-Marie emerged as a unique performer and protest singer. These songs, written in the 1970s and new to most Buffy fans, fit right in with both her classics and more recent songs.
TRACK LISTING:
Generation / Sweet Little Vera / Hong Kong Star Boy / Look At The Facts / Sweet, Fast Hooker Blues / Nobody Will Ever Know It's Real But You / Eagle Man / Changing Woman / You Take Me Away / Starwalker: For the American Indian Movement / All Around The World / I've Really Fallen For You / Love's Got to Breathe and Fly / A Man / I Can't Take It No More / Sweet January / Can't You See The Way I Love You / Qu'Appelle Valley, Saskatchewan / Mongrel Pup / I Been Down / The Beauty Way / Where Poets Go / That's The Way You Fall In Love / HEY! Baby Howdja Do Me This Way? / Don't Need No City Life / Wynken, Blynken & Nod / Can't Believe The Feeling When You're Gone / Free The Lady / Sweet America / Honey Can You Hang Around / Waves / America My Home / Ain't No Time For Worryin' Blues / I See You Again (Jusqu Au Je Te Revois)
Download price for this album may differ from physical product price. For help with downloads please visit the Details On Placing Your Order page.
FEATURED ITEMS ! ADD THREE OR MORE ITEMS TO YOUR CART TO SAVE ON SHIPPING AND GET AN AUTOMATIC 5% OFF !