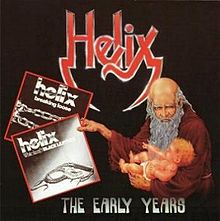 This compilation combines Helix's first two independent releases. This disc does not include the bonus tracks that appear on the remastered versions.
TRACK LISTING:
Breaking Loose (1979): 
I Could Never Leave / Don't Hide Your Love / Down In The City / Crazy Women / Billy Oxygen / Here I Go Again / You're A Woman Now / Wish I Could Be There
White Lace & Black Leather (1981): 
Breaking Loose / It's Too Late / Long Distance Heartbreak / Time For A Change / Hangman's Tree / It's What I Wanted / Mainline / Women, Whiskey & Sin / Thoughts That Bleed
PERSONALLY SIGNED BY BRIAN
FEATURED ITEMS ! ADD A SECOND ITEM TO YOUR CART TO SAVE ON SHIPPING AND GET AN AUTOMATIC 5% OFF !