WHITE LION - Fight To Survive CD (1984)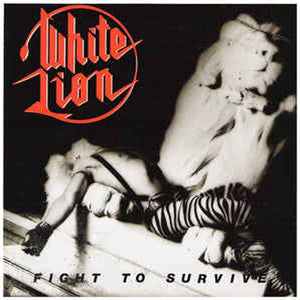 Fight to Survive is White Lion's debut album prior to the classic band setting this album is with Felix Robinson on bass and Nicky Capozzy on drums. It contains raw a raw production with mostly guitar oriented songs with great riffs and lots of finger tapping in the solos This album was first released in Japan only. After Grand Slamm Records bought the album rights from Elektra Records it was released in the USA and was well received reaching to position 151 on the Billboard 200. "Broken Heart" was released as a single and was later recorded in a newer version on White Lion's fourth album Mane Attraction. This is the 1995 remastered version with 7 bonus live tracks.
TRACK LISTING : Broken Heart / Cherokee / Fight to Survive / Where Do We Run / In the City / All the Fallen Men / All Burn in Hell / Kid of 1000 Faces / El Salvador / The Road to Valhalla Bonus tracks: Hungry (live) / Don't Give Up (live) / Lonely Nights (live) / Sweet Little Lovin' (live) / Broken Heart (live) / Fight To Survive (live) / Tell Me (live)
FEATURED ITEMS ! ADD A SECOND ITEM TO YOUR CART TO SAVE ON SHIPPING AND GET AN AUTOMATIC 5% OFF !