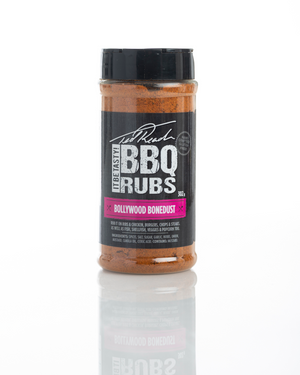 One of the key ingredients to my Original Bone Dust Seasoning Rub is mild yellow Indian curry powder which provided a background spice blend that gave Bone Dust its character. Bollywood Bone Dust is an extension of Bone Dust with a large increase in the Indian spices used in Bone Dust. It gives that boost of Indian spice to all you grill or barbecue. It's Very Very Good!
Features:  Gluten Free / Fat Free / Vegan
Shake Well Before Using
Shelf Life 18 months
Allergen Alert !!! Contains Mustard    
FEATURED ITEMS ! ADD THREE OR MORE ITEMS TO YOUR CART TO SAVE ON SHIPPING AND GET AN AUTOMATIC 5% OFF !