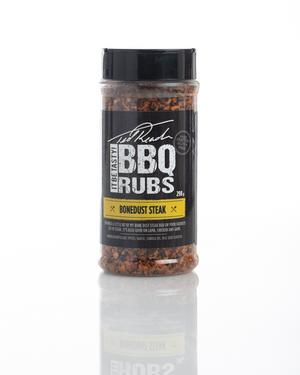 My favourite food is steak. I love it! I could eat it everyday, but my wife and doctor won't approve of that! But when I do eat steak, I do like to spice it up. My Bone Dust Steak Spice is loaded with flavour. Coarsely ground black pepper, garlic, onion, coriander and a hint of dill. It's mighty tasty. You don't need a lot, a little will go a long way! Rub it into your favourite cut of steak! Any steak and lamb too!
Features:  Gluten Free / Fat Free / Vegan
Shake Well Before Using
Shelf Life 18 months
FEATURED ITEMS ! ADD THREE OR MORE ITEMS TO YOUR CART TO SAVE ON SHIPPING AND GET AN AUTOMATIC 5% OFF !