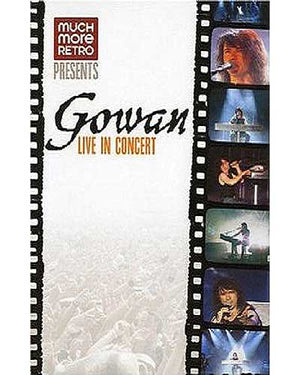 This DVD was taken from footage stored in the MuchMusic archives and originally aired in the early 90s. It was shot in 1990 at Le Spectrum in Montreal, Quebec, Canada and captures Gowan at the peak of his career as a solo artist. Bonus features include an interview with Much Music alumni Denise Donlon, a bootleg clip of fan favourite "Victory" and a live video cut of "City Of The Angels."
TRACK LISTING:
Lost Brotherhood / Moonlight Desires / Fire It Up / Call It A Mission / Guerrilla Soldier / The Dragon / All The Lovers In The World / A Criminal Mind / (You're A) Strange Animal / Love Makes You Believe
DVD Bonus Features:
- Victory (Bootleg Video)
- City Of The Angels (A Montage and hommage to 1985)
- Gowan Interview
Total Running Time: 84 Mins.
Dolby 5.1 / Stereo
FEATURED ITEMS ! ADD A SECOND ITEM TO YOUR CART TO SAVE ON SHIPPING AND GET AN AUTOMATIC 5% OFF !