BACHMAN - CUMMINGS Jukebox Deluxe (2007)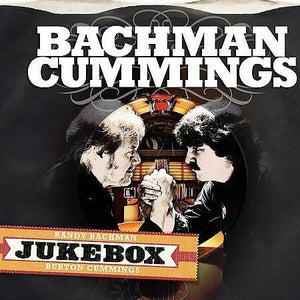 Burton Cummings and Randy Bachman record a collection of classic songs that inspire their music.
TRACK LISTING :
Baby Come Back (Eddy Grant) / Who Do You Love (Ellas McDaniel) / I'm Happy Just To Dance With You (Lennon/McCartney) / The Walk (Jimmy McCrackin) / Don't Talk To Him (Cliff Richard/Bruce Welsh) / Man Of Mystery (Michael Carr) / Ain't That Just Like A Woman (Demetrius/Moore) / Little Queenie (Chuck Berry), Good Times (Sam Cook), Like A Rolling Stone (Bob Dylan) / Judy In Disguise (With Glasses) (Bernard/Fred) / Don't You Just Know It (Huey 'Piano' Smith) / Yeh Yeh (Hendricks/Grant/Patrick) / Agent Double-O Soul (Hatcher/Sharpley) / The Letter (Wayne Carson Thompson) / Ain't That Loving You Baby (Hunter/Otis) / American Woman 2007 (The Guess Who)
The deluxe version includes a bonus DVD on the making of the album and is now put of print.
FEATURED ITEMS ! ADD A SECOND ITEM TO YOUR CART TO SAVE ON SHIPPING AND GET AN AUTOMATIC 5% OFF !