Return Of The Strange Animal (25th Anniversary Edition) (2010)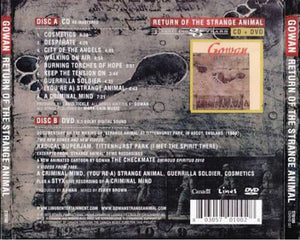 Product image 1
Product image 2
Return Of The Strange Animal (25th Anniversary Edition)
Released in 2010 this 2 disc CD/DVD release features the original Strange Animal album in its entirety, fully remastered.
5.1 DVD Features:
- Documentary on the making of Strange Animal at Tittenhurst Park. 
- Two new songs with videos (Radical Superjam and Tittenhurst Park (I Met the Spirit There)).
- A new animated cartoon by Gowan, The Checkmate.
- Four videos from 1985 - (You're a) Strange Animal, A Criminal Mind, Cosmetics and Guerilla Soldier.
- Live video of STYX performing A Criminal Mind. 
- Produced by Gowan. Mixed by Terry Brown.
Cosmetics
Desperate
City of the Angels
Walking On Air
Burning Torches of Hope
Keep the Tension On
Guerilla Soldier
(You're a) Strange Animal
A Criminal Mind
FEATURED ITEMS ! ADD A SECOND ITEM TO YOUR CART TO SAVE ON SHIPPING AND GET AN AUTOMATIC 5% OFF !