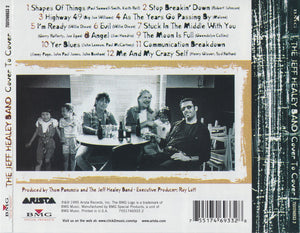 Product image 1
Product image 2
On their fourth studio album, Cover To Cover, the Jeff Healey Band put their stamp on some great tunes including the Stealers Wheel hit, "Stuck In The Middle With You".
01. Shapes of Things
02. Freedom
03. Yer Blues
04. Stop Breakin' Down
05. Angel
06. Evil
07. Stuck in the Middle with You
08. I Got a Line on You
09. Run Through the Jungle
10. As the Years Go Passing By
11. I'm Ready
12. Badge
13. Communication Breakdown
14. Me and My Crazy Self
FEATURED ITEMS ! ADD THREE OR MORE ITEMS TO YOUR CART TO SAVE ON SHIPPING AND GET AN AUTOMATIC 5% OFF !