CRASH KELLY Electric Satisfaction CD (2006) SIGNED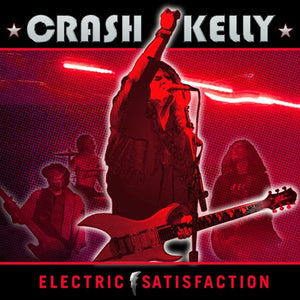 To say Crash Kelly were inspired by glam rockers like Thin Lizzy, Kiss and T-Rex for Electric Satisfaction would be a gross understatement. Produced by former Guns n' Roses guitarist Gilby Clarke, SPIN Magazine says "Electric Satisfaction is an electric guitar solo-laden ode to sex, drugs, and rock' n' roll." The album also features a guest appearance by Guns N Roses keyboardist Tedd "Zig Zag" Andreadis.
TRACK LISTING :
Hang Out Where You Matter / Ride The Wire / Turn It Around / 33 On The Charts / Two Year Runaround / Count On Me, Count On You / She Put The Shock (In My Rock And Roll) / Cut On Your Tongue / Cracked And Faded / Rock N Roll Disasters (On The Radio) /  / You're A Drag When You're High / Roxy Roller (Bonus Track)
FEATURED ITEMS ! ADD THREE OR MORE ITEMS TO YOUR CART TO SAVE ON SHIPPING AND GET AN AUTOMATIC 5% OFF !