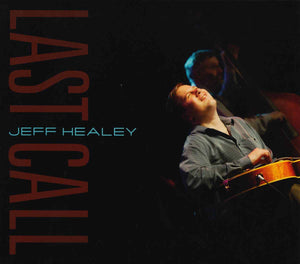 These stripped-down solo, duo and trio sessions could be titled "The Real Jeff Healey" The material Jeff chose to record for his final jazz/swing disc shows his love for all musical styles and features some of his best playing and heartfelt singing.
Jeff's final jazz recording is not only one of his shining career highlights, featuring some of his greatest performances on record, it is also his most personal. The album was a stunning labour of love from start to finish.
01. Holding My Honey's Hand
02. Time on My Hands
03. The Wildcat
04. You Can't Pull the Wool Over My Eyes
05. Deep Purple
06. Hong Kong Blues
07. Pennies from Heaven
08. Autumn in New York
09. I'm Gonna Sit Write Down and Write Myself a Letter
10. Black and Blue Bottom
11. Guitar Duet Stomp
12. Laura
13. Keeping Myself for You
14. Some of These Days
FEATURED ITEMS ! ADD A SECOND ITEM TO YOUR CART TO SAVE ON SHIPPING AND GET AN AUTOMATIC 5% OFF !