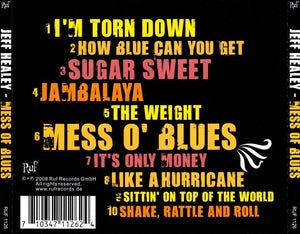 Product image 1
Product image 2
Jeff's first rock/blues record in eight years would be the last he had full participation in.  Sadly, Jeff passed away just weeks before Mess Of Blues was released.
01. I'm Torn Down
02. How Blue Can You Get
03. Sugar Sweet
04. Jambalaya
05. The Weight
06. Mess O' Blues
07. It's Only Money
08. Like a Hurricane
09. Sittin' on Top of the World
10. Shake, Rattle and Roll
FEATURED ITEMS ! ADD A SECOND ITEM TO YOUR CART TO SAVE ON SHIPPING AND GET AN AUTOMATIC 5% OFF !