Monsters Under The Bed (1991)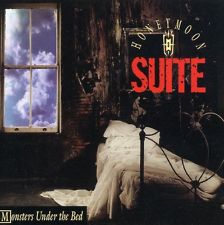 Recorded and mixed at the legendary Le Studio in Quebec and produced by Paul Northfield (Rush, Queensryche, Dream Theater). Dave Betts and Gary Lalonde had left the band, and Jorn Anderson (Alannah Myles) and Steve Webster (Billy Idol) were brought in to record the drum and bass tracks. The result was a different, more mature sound for Honeymoon Suite, full of deeper songs and new subject matter with layers of lush keyboard tracks provided by Ray Coburn, and some of Derry's best guitar work to date. Johnnie Dee was in fine form as always, and sang the new songs with great conviction.

TRACK LISTING :
Say You Don't Know Me / Bring On The Light / If Ya Love Me / The Road / Little Sister / How Long / Come (Let Me Take You There) / Miracle / It's Only Love / Next To You / Stand Alone / All I Wanted
FEATURED ITEMS ! ADD THREE OR MORE ITEMS TO YOUR CART TO SAVE ON SHIPPING AND GET AN AUTOMATIC 5% OFF !