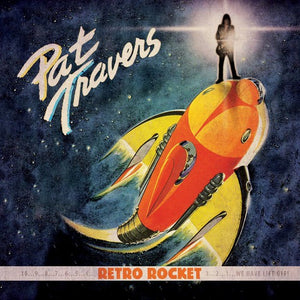 TRACK LISTING :
Legendary guitar slinger Pat Travers blasts off with a new studio album featuring Travers trademark smoking hot licks, powerful vocal performances and just plain kick ass, foot stomping rock & roll! Retro Rocket, as it's name suggests, finds Travers digging deep into the early years of his outstanding career finding inspiration in the fiery grooves of 1978's Heat In The Street and his monumental 1979 live album Go For What You Know!
TRACK LISTING :
I Always Run / Searching For A Clue / Who Can You Turn To / Up Is Down / Mystery At The Wrecking Yard / You Can't Get Their From Hare / I Am Alive / I Wanna Be Free / Hellbound Train
CD COMES WITH A HAND SIGNED PHOTO
LP IS SIGNED ON COVER BY PAT
FEATURED ITEMS ! ADD THREE OR MORE ITEMS TO YOUR CART TO SAVE ON SHIPPING AND GET AN AUTOMATIC 5% OFF !