Rosary Of Tears CD (1988 - 1991)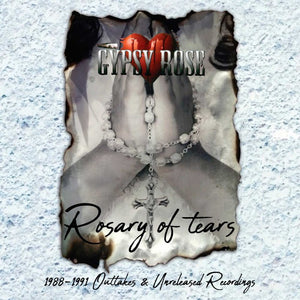 Finally the long awaited ROSARY OF TEARS  from Gypsy Rose is here!
1988-1991 Outtakes & Unreleased Recordings are compiled from songs forgotten and thought lost are your's on this release. Featuring songs that didn't make the cut for PREY plus songs written and recorded for a potential 2nd album under the tutelage of Gene Simmons of KISS fame. Featuring the potential single for that 2nd album "Kicked In The Heart By Love" among others and remake of the classic "All By Myself." Comes with booklet full of lyrics and stories told by Michael Ross song by song.
TRACK LISTING :
13 Engines / Only My Voice / Rosary Of Tears / Safe With Me / Kicked In The Heart By Love / All By Myself / 3 Sheets To The Wind / Bangin' On The Radio / It's The Way You Bite / Long Cold And Gone / Messing With Trouble / If Your Love Is Gone (Gypsy Rose version 1988) / Love On 2 Legs
Restored,remixed and remastered by Ronnie Hemlin at Claustrophobic Studio Gayle Sweden
Tracks 1,2,3,4,5,9 originally recorded by AL Hill Lakeshore sound Sarnia
FEATURED ITEMS ! ADD A SECOND ITEM TO YOUR CART TO SAVE ON SHIPPING AND GET AN AUTOMATIC 5% OFF !