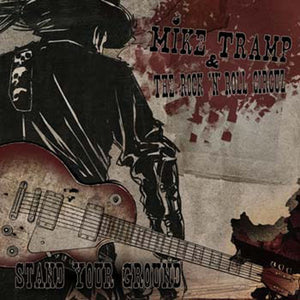 Stand Your Ground is the sixth solo album (and second under the banner of 'Mike Tramp & The Rock 'N' Roll Circuz') by former Freak of Nature and White Lion lead singer, Mike Tramp. Released on the 28th March 2011, the album was recorded virtually live in Medley Studios in Copenhagen, and co-produced by Søren Andersen and Mike Tramp. It was mixed by Jacob Hansen, who is known for his work with bands such as Volbeat, Surfact and others. The Danish release of the album contains a bonus track - 'Hymn to Ronnie' (also released as a single) - which is a tribute to Ronnie James Dio, who died the previous year on the 16th of May 2010. This is the Targetz EU version.
TRACK LISTING:
Don't Let Them Put It On You / Alright By Me / Distance / Gotta Get Away / Straight From The Look In Your Eyes / Got Me Crazy / Wish You Well / World Is Changing / Prettiest Thing / Say What You Will / The Soldier Never Started A War / Hymn To Ronnie (Danish only bonus track)
FEATURED ITEMS ! ADD A SECOND ITEM TO YOUR CART TO SAVE ON SHIPPING AND GET AN AUTOMATIC 5% OFF !