UNION - Live In The Galaxy (1998/2022)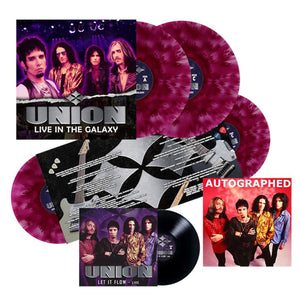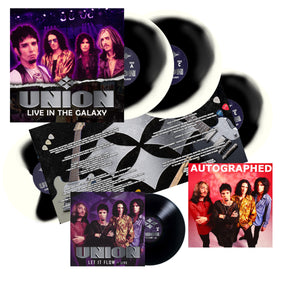 Product image 1
Product image 2
Product image 3
The remastered 1999 release "Live In The Galaxy" from Union is now available on vinyl! Double LP gatefold with never before seen photos of the band plus a 7" single with bonus tracks. Limited Edition murky purple color vinyl. Signed Edition comes with an autographed photo.
TRACK LISTING :
SIDE ONE
Old Man Wise / Around Again / Heavy D

SIDE TWO
Jungle / (Love) I Don't Need It Anymore / Man In The Moon

SIDE THREE
I Walk Alone / Surrender / Pain Behind Your Eyes

SIDE FOUR
Power To The Music / Tangerine / October Morning Wind / Youv'e Got To Hide You Love Away

Let It Flow (Live) 7" Single
SIDE A
Let It Flow (Bonus)
SIDE B
Empty Soul (Bonus)
FEATURED ITEMS ! ADD A SECOND ITEM TO YOUR CART TO SAVE ON SHIPPING AND GET AN AUTOMATIC 5% OFF !