Where The Wood Meets The Wire CD (2011) SIGNED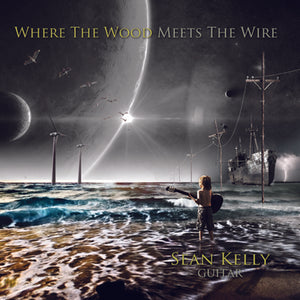 Classical guitar masterpieces arranged in a style that mixes progressive rock and world music. Features the incredible drumming of Dave Langguth (Kim Mitchell), the amazing bass playing of Dean Jarvis (Alessia Cara, Nelly Furtado), the vitusoic trumpet of Mike Herriot and more.
TRACK LISTING :
Adelita (Tarrega) / La Catedral (Barrios) / l. Preludio saudade / ll. Adante religioso / lll. Allegro Solemne / Une Mente Criminale (A Criminal Mind) (Gowan) / Capricho arabe (Tarrega) / Little Tango in E Minor (Arcas) / Nocturne (Mertz) / Espanoleta (Spanish Blues) (Sanz) / Pavane (Sanz) / Rujero (for George) (Sanz) / Ave Maria, featuring Brian Vollmer (Schubert)
FEATURED ITEMS ! ADD A SECOND ITEM TO YOUR CART TO SAVE ON SHIPPING AND GET AN AUTOMATIC 5% OFF !