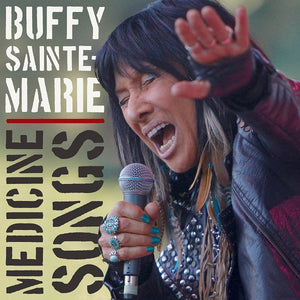 MusicTRACK LISTING:
You Got To Run (Spirit Of The Wind) f. Tanya Tagaq / The War Racket / Starwalker / My Country 'Tis Of Thy People You're Dying / America The Beautiful / Carry It On / Little Wheel Spin And Spin / No No Kashagesh / Soldier Blue / The Priests Of The Golden Bull / Bury My Heart At Wounded Knee / Universal Soldier / Power In The Blood
BONUS TRACKS COME ON A DOWNLOAD CARD : 
Disinformation / Fallen Angels / Now That The Buffalo's Gone / Generation / Working For The Government / The Big Ones Get Away / The War Racket (Unplugged)
NOTE - If you do not have a computer to download these additional tracks you may add a CD-R with the tracks to your cart.
Statement from Buffy Sainte-Marie about Medicine Songs:

"This is a collection of front line songs about unity and resistance – some brand new and some classics – and I want to put them to work. These are songs I've been writing for over fifty years, and what troubles people today are still the same damn issues from 30-40-50 years ago: war, oppression, inequity, violence, rankism of all kinds, the pecking order, bullying, racketeering and systemic greed. Some of these songs come from the other side of that: positivity, common sense, romance, equity and enthusiasm for life.
I've found that a song can be more effective than a 400-page textbook. It's immediate and replicable, portable and efficient, easy to understand – and sometimes you can dance to it. Effective songs are shared, person-to-person, by artists and friends, as opposed to news stories that are marketed by the fellas who may own the town, the media, the company store and the mine. I hope you use these songs, share them, and that they inspire change and your own voice.
It might seem strange that along with the new ones, I re-recorded and updated some of these songs from the past using current technologies and new instrumentations – giving a new life to them from today's perspective. The thing is, some of these songs were too controversial for radio play when they first came out, so nobody ever heard them, and now is my chance to offer them to new generations of like-minded people dealing with these same concerns. It's like the play is the same but the actors are new.
I really want this collection of songs to be like medicine, to be of some help or encouragement, to maybe do some good. Songs can motivate you and advance your own ideas, encourage and support collaborations and be part of making change globally and at home. They do that for me and I hope this album can be positive and provide thoughts and remedies that rock your world and inspire new ideas of your own."
FEATURED ITEMS ! ADD THREE OR MORE ITEMS TO YOUR CART TO SAVE ON SHIPPING AND GET AN AUTOMATIC 5% OFF !