A Criminal Mind Comic Book SIGNED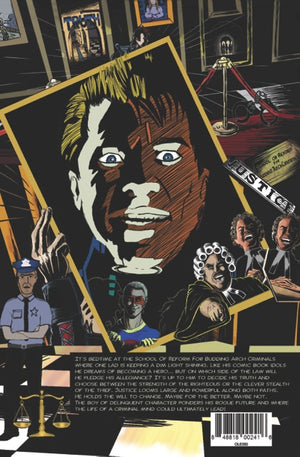 Product image 1
Product image 2
Limited Edition Gowan high end comic book. Stay tuned to this space for pre-order and pricing.
It's bedtime at the school of reform for budding arch criminals where one lad is keeping a dim light shining. Like his comic book idols, he dreams of becoming a hero ... but on which side of the law will he pledge his allegiance ? It's up to him to decide his truth and choose between the strength of the righteous or the clever stealth of the thief. Justice looms large and powerful along both paths. He holds the will to change. Maybe for the better. Maybe not. The boy of delinquent character ponders his rogue future and where the life of a criminal mind could ultimately lead.
FEATURED ITEMS ! ADD THREE OR MORE ITEMS TO YOUR CART TO SAVE ON SHIPPING AND GET AN AUTOMATIC 5% OFF !